Posted by Loggerhead Marinelife Center on 19th May 2020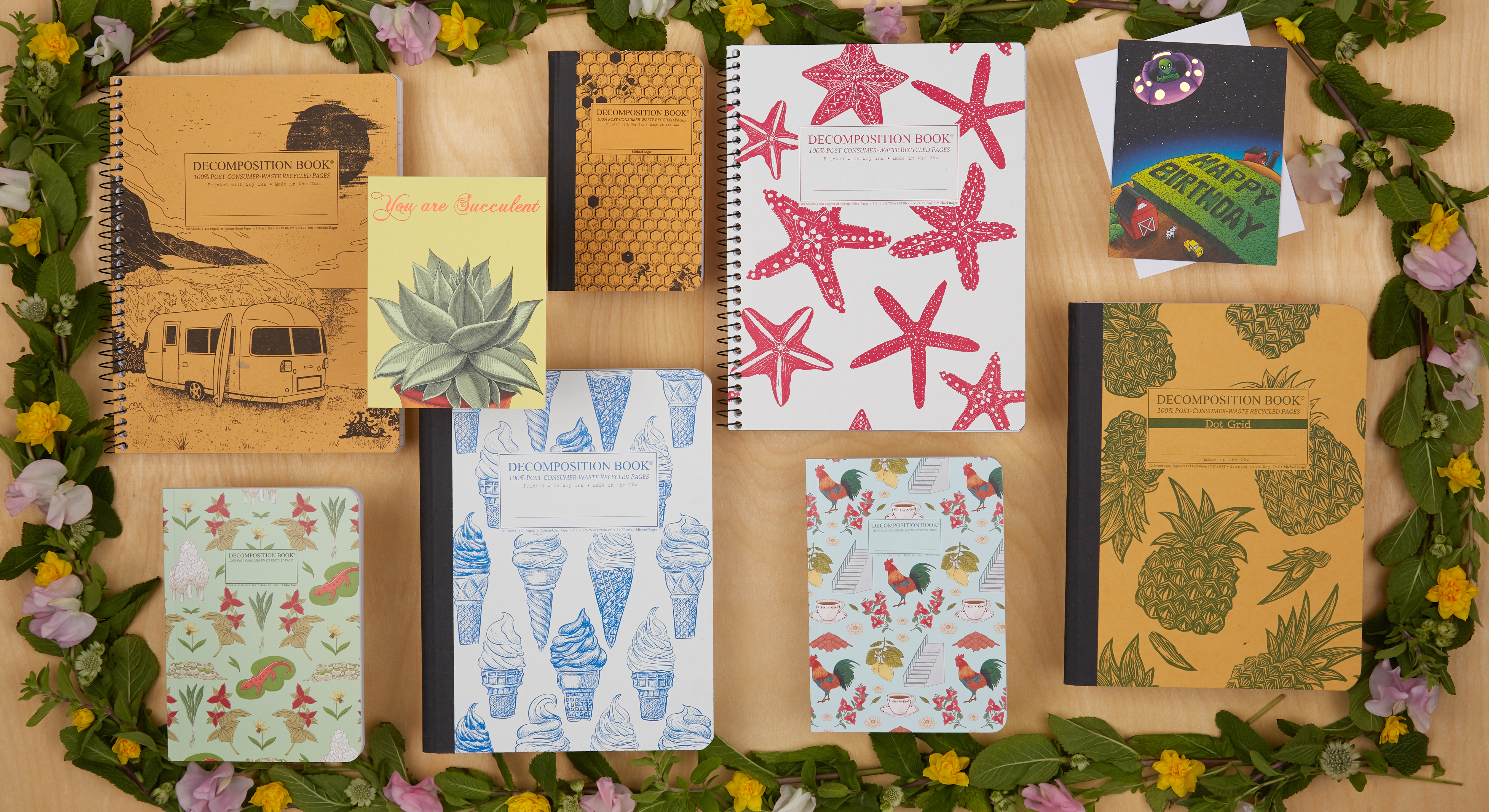 Name: Eric Held and and Michael Rogers
Company: Decomposition Books
Items sold in LMC's gift store: Decomposition Books; 100% post-consumer-waste recycled paper.
Where you're from and currently reside?
I'm from Long Island, NY and I currently live in Brooklyn, NY.
How did you become inspired to start your decomposition journals?
I grew up next to a nature preserve and spent countless hours hiking, bird watching, and sloshing through the mud. Growing up with nature at our doorstep helped to cultivate my love for our environment. I left home for college and when I returned I joined the family notebook business.
I wanted to share my love for the outdoors and ensure that the books that we produced were as eco-friendly as possible. I developed a series of "eco books" which had plain covers and a recycled logo. They didn't sell well and the lesson learned was that there needs to be more than just an eco story.
My brother Jacob came up with the pun "Decomposition Book" and as soon as I heard it I said, "Yes! That's it!!" The line has evolved from two cover choices to over 100 different prints. It is a lot of fun to come up with new designs and weird ideas and then to see them turn into a tangible product.
What are your items made out of exactly?
Our decomposition books are made from 100% post-consumer waste recycled paper, which is the paper that you set out on your curbside to be picked up. PCW paper is the best type of recycled paper because we are saving it right before it becomes landfill. Additionally, PCW paper has an advantage over sustainably forested paper by preserving animal habitat and natural areas.
What's been your favorite experience since starting your business?
A few years ago we crunched the numbers and determined that by using PCW paper in our notebooks we've saved thousands of trees, tons and tons of waste, and millions of gallons of fresh water.
Do you have a sustainability fact up your sleeve that you wish more people knew?
Paper can be recycled 5 to 7 different times!
What would you say to retail and e-commerce shops that are on the fence about including eco-conscious products in their store?
Eco-conscious products are typically more expensive than conventional products and so higher prices can be a little bit scary to retailers. But customers like to express the values through the products that they buy and the businesses that they support. The environment is much more at the forefront than ever before and customers would love to have an eco-friendly choice in a conventional category. Also, if the product looks great, then the eco bonafides are just a welcome bonus for a lot of customers.