Posted by Hannah Deadman on 20th Jun 2017
Following the Waves: Vendor Spotlight with Talizmani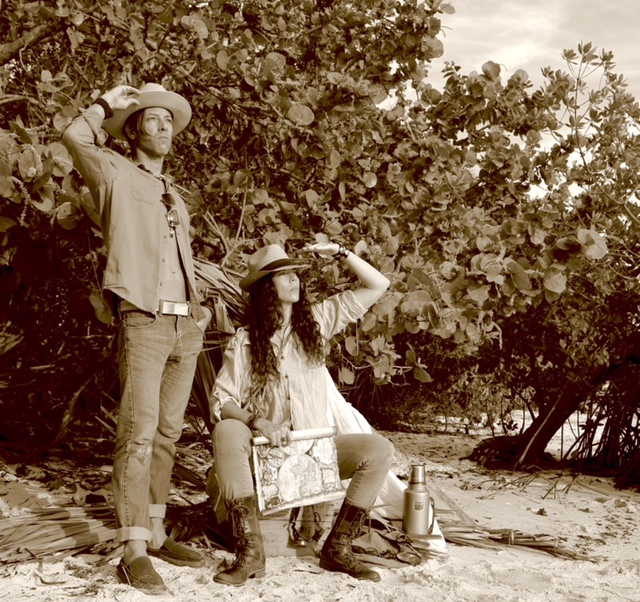 Name: Jeffrey Aufiero and Pamela Shapiro
Company: Talizmani
E-store Product: Jewelry
Where you're from and currently reside: Jupiter, Florida
How long have you been creating jewelry? When or how did you get into it? Pamela: I started making jewelry when I was 18 years old. I was an art student that wanted to travel and see the world. So, I started creating handmade items to raise money for travel, and actually lived in Mexico for about 13 years. There, I made mobiles with things like shells, seeds and stones from those regions. About four years ago, I moved to Florida to take care of my grandmother, and when I met Jeffrey in the workshop he also expressed his desire to create. He had acquired beautiful sea glass while in the Bahamas and had such a great eye. I'd like to think we're like Keith Richards and Mick Jagger!
Jeffrey: I'm a musician and a photographer, so initially my format of expression was more about writing songs and making music. Once I met Pamela, I started creating with my hands, and that's how we got to where we are today. We started selling our jewelry at the local green market and built up an Etsy store to start. In 2013, we started doing wholesale.
Where do you get ideas for your jewelry? Pamela: It's a combination of several things. Like maybe we took a trip and found a shell or stone. Our work is inspired by the natural world and what we find on our travels. It's a combination of us coming up with different ideas. And by making the jewelry ourselves, it gives more integrity to the art we create.
Jeffrey: Nature is the best natural artist. We use what we find in nature and throughout different cultures. Living in Central or South America or traveling Asia, you get really inspired by what you see; what you experience. And I think that being a perfectionist really keeps you on your toes to be a better artist, to keep refining your craft. Pamela is a really prolific artist – she's constantly creating and coming up with new ideas. And I always try to figure out how I can do things better. Really, it's a constant flow of creativity.
How did you come up with the styles? Pamela: I kid you not, I have a total mess in front of me. Even as we speak, every pearl, stone, shell and everything else is scattered in front of me. Then it hits me like a lightning bolt. If I don't have it in front of me, it does not come. The pieces kind of talk to me, and I facilitate those processes that already exist. Jeffrey is an amazing visualist. For me, I can't measure or cut something straight and I love clean lines and details, which he does so well. When I find a great piece, it feels so sacred and magical. The fact that a certain shell or seed washed up on the shore in that moment I was there feels like it was meant to be part of my creation. That's one way I come up with a new design or piece.
Jeffrey: Pamela has been doing this a lot longer than I. Some days we pick up tribal design and components, and I'll say I really want to work with those pieces or do product photography for the business. We know our strong points and use those to our best ability. For example, Pamela is better at editing the photos, and I like to visualize the shot in the first place.
What is your favorite thing you've ever created?Jeffrey: Some of my favorite includes our pieces that had elements from our trips to Bali and Thailand. We met a Pakistani man that had different pieces from Morocco, and we also bought some cool gypsy-inspired pieces. Over the past year, we tied these together with leather. That was one of my favorite things to make. And what's really cool to me is that it went from my hand to someone who purchased and brought it home. It's so cool to create something and see someone totally rocking it.
Where is your favorite place to see art? Pamela: I went to the University of Arizona and their Center for Creative Photography has awesome displays of Diane Arbus' and Ansel Adams' work. I will say, though, that my favorite art is black and white photography. I also really enjoy local shows.
Jeffrey: I grew up in Philadelphia and New York, so there are great museums and galleries there that I love. But, I also love Art Basel and Wynwood Walls. There's something super raw and cool about street art. It's fascinating to me.
What's the best advice you've ever heard about art/creativity? Both: I think from being a musician for years and now being a visual artist, I've realized that the more I care less about what people like, the more I feel free to create things that are truly authentic. And to be the change in the world that we want to see.